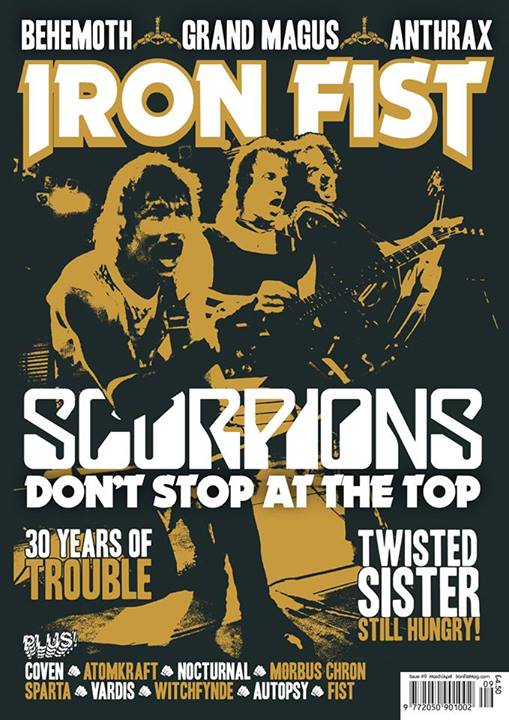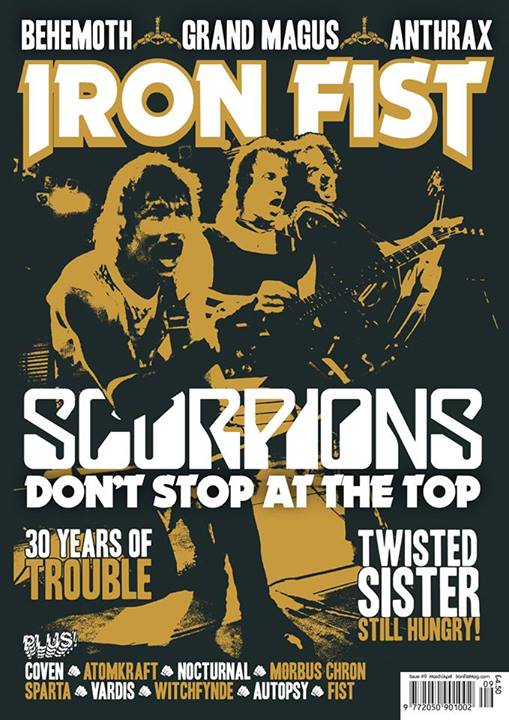 Issue 9
£6.50 / On Sale
The new issue of Iron Fist is upon us and we're getting behind a campaign to get Germany's great rock and roll export, SCORPIONS, to the UK. So far they've not included Britain on their final Worldwide Live tour and we're set to change that. Speaking to guitarists RUDOLF SCHENKER and MATTHIAS JABS, Louise Brown discovers a band far from retirement and with plenty more to give their fans.
They're not the only band still "hungry" for the road, Jim Martin talks to JAY JAY FRENCH from TWISTED SISTER about the making of 'STAY HUNGRY' and their upcoming 30th Anniversary tour. And talking of 30th anniversaries, we've also got a massive feature celebrating three decades of 'PSALM 9' and talk to both TROUBLE and THE SKULL about how they're continuing their legacy through two different paths.

We also talk to DAN LILKER on the eve of his retirement from touring about the band, and the album, that kick-started his career; ANTHRAX and the making of 'FISTFUL OF METAL' and we discuss getting back into the studio with JINX DAWSON of COVEN, who just released her first album in 40 years! 

We're gearing up for BROFEST too, the second edition of the Newcastle festival that celebrates the New Wave Of British Heavy Metal, with features from FIST, ATOMKRAFT, VARDIS, BATTLEAXE, SPARTA and GASKIN, as well as the new breed on the bill, like ELIMINATOR, DARK FOREST, CAULDRON, VOLTURE and WITCHTOWER and we also talk to WITCHFYNDE about the release, finally, of their long-lost '70s demos. 

It's not all about the old though, in this issue we also talk to BEHEMOTH, GRAND MAGUS, MORBUS CHRON, CONAN, THE WOUNDED KINGS, NOCTURNAL, SLOUGH FEG and THE OATH as well as our usual packed reviews section and a new look news and Into Battle section.


Also available digitally:
Phone
Tablet
OR PURCHASE PRINT VERSION FROM DROP DOWN BELOW