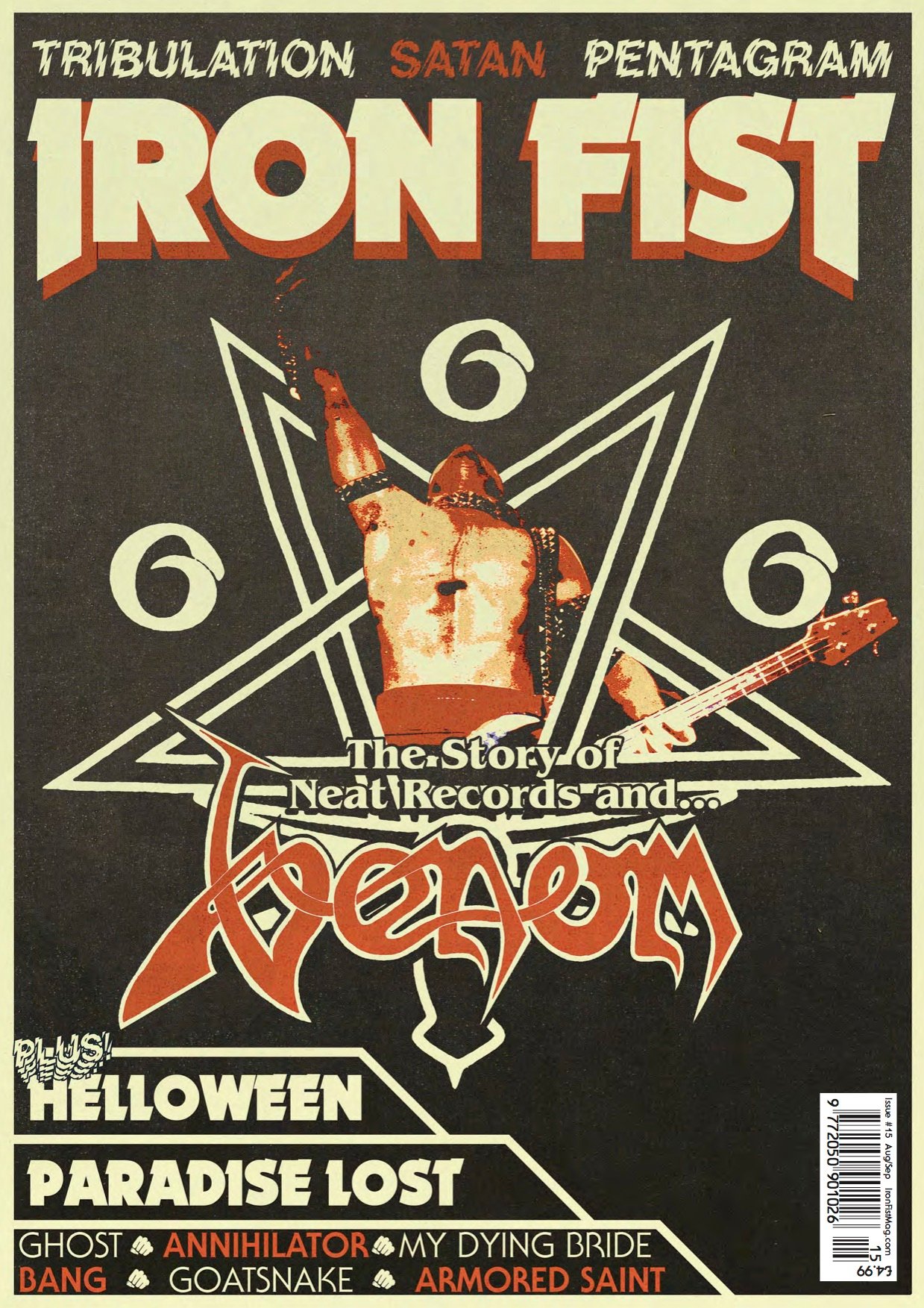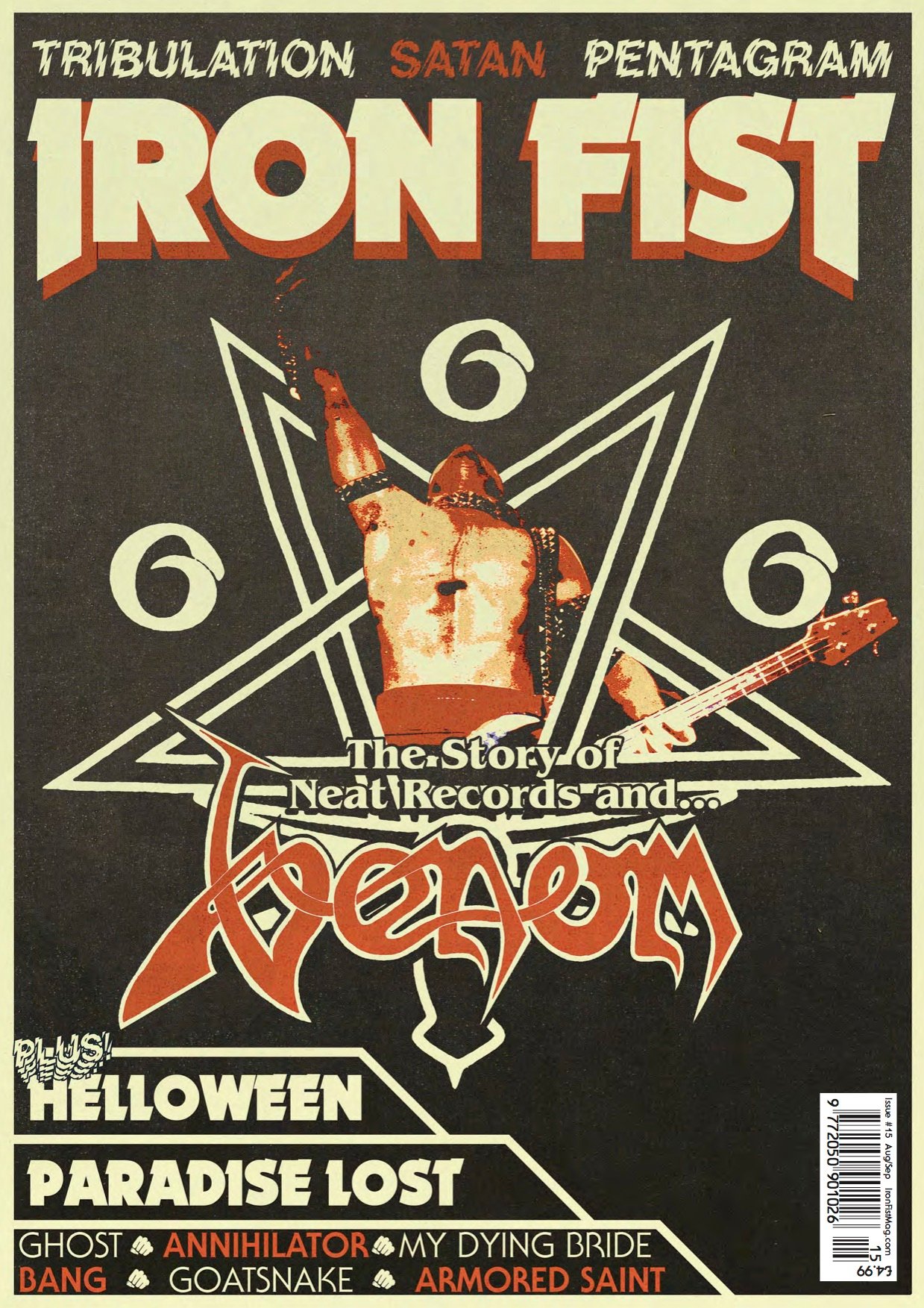 Issue 15
£6.50 - £9.50 / Sold Out
As the celebrated Geordie folk song 'The Lambton Worm' kicks off; "Whisht! lads, haad yor gobs, I'll tell ye aal an aaful story".
Or for those of us who don't speak Geordie, the awful story we're asking you to hold your mouths for concerns an early-'80s period in which the North-East was an epicentre for a shockwave of pulse-racing Heavy Metal whose influence can still be felt in extremis some thirty-five years on. Whereas The Lambton Worm was a mythical beast that rose to terrorise the North-East, a certain strain of terror was spawned in just such territory by three Tyne & Wear lads ripping apart the metal rulebook in search of shocks, horror and glory galore. This band, of course, was VENOM, and in this issue Iron Fist talk to Cronos on a four-decade mission of life as a blasphemous iconoclast and full-throttle Black Metal bezerker.
What's more, we travel back in time to the dawn of the New Wave Of British Heavy Metal to chart the roots of NEAT RECORDS, harking back to an era in which the upstairs of a bingo hall in Wallsend was the launchpad for a strain of supercharged audial aggro that would inspire a generation. He talks to movers and shakers from the era on the humble origins of a culture that lit the blue touchpaper for extreme metal far and wide. 

It's a continuum that carries on into the here and now - one of the most exciting records to assault our eardrums of late has been 'Atom By Atom' by SATAN, recorded in Newcastle by a bunch of scene vets who mainline a Metallic fury as vital and electrifying as ever before. We catch up with them to get the lowdown on one of the most life-affirming rejuvenations of recent times.
Indeed, it's a decidedly Luciferian issue this time around, as we chat to living legend Bobby Liebling of dark pioneers PENTAGRAM on his storied life as a doom icon, meet new lords of darkness and wonder TRIBULATION and check in with Taz of the bludgeoning SATAN'S WRATH.
Furthermore, as ever we shine a light on the lifers who continue to forge their metallic furnace through the ages against all adversity - PARADISE LOST may have taken some lurches into the unknown in their quarter century on Earth, yet they've hit back with one of the greatest albums yet. HELLOWEEN take us back to their glory days as a band upping the ante on both melody and malice, ARMORED SAINT take us over their history as perennial gutsy outsiders and ANNIHILATOR clue us in on a thrashing power unlikely to be disconnected any time soon.
Meanwhile, he lineage aligned to the Sabbath is worshipped in style in this issue by everyone from their contemporaries and early-'70s progenitors BANG to longstanding doom disciples ACID KING to returning heroes GOATSNAKE, And as if that wasn't enough, we deal out the damnation with the Voivod/Amebix dream team that is TAU CROSS, the epic cult killers DARK QUARTERER and Brit cadaver-crunchers DECOMPOSED.
As Cronos himself sang in 1982, "Energy screams, magic and dreams , Satan records the first note". From the first note to the last one, join IRON FIST and lay down your souls!
Iron Fist 15 will also be available digitally for all you modern metal maniacs.







OR PURCHASE PRINT VERSION FROM DROP DOWN BELOW