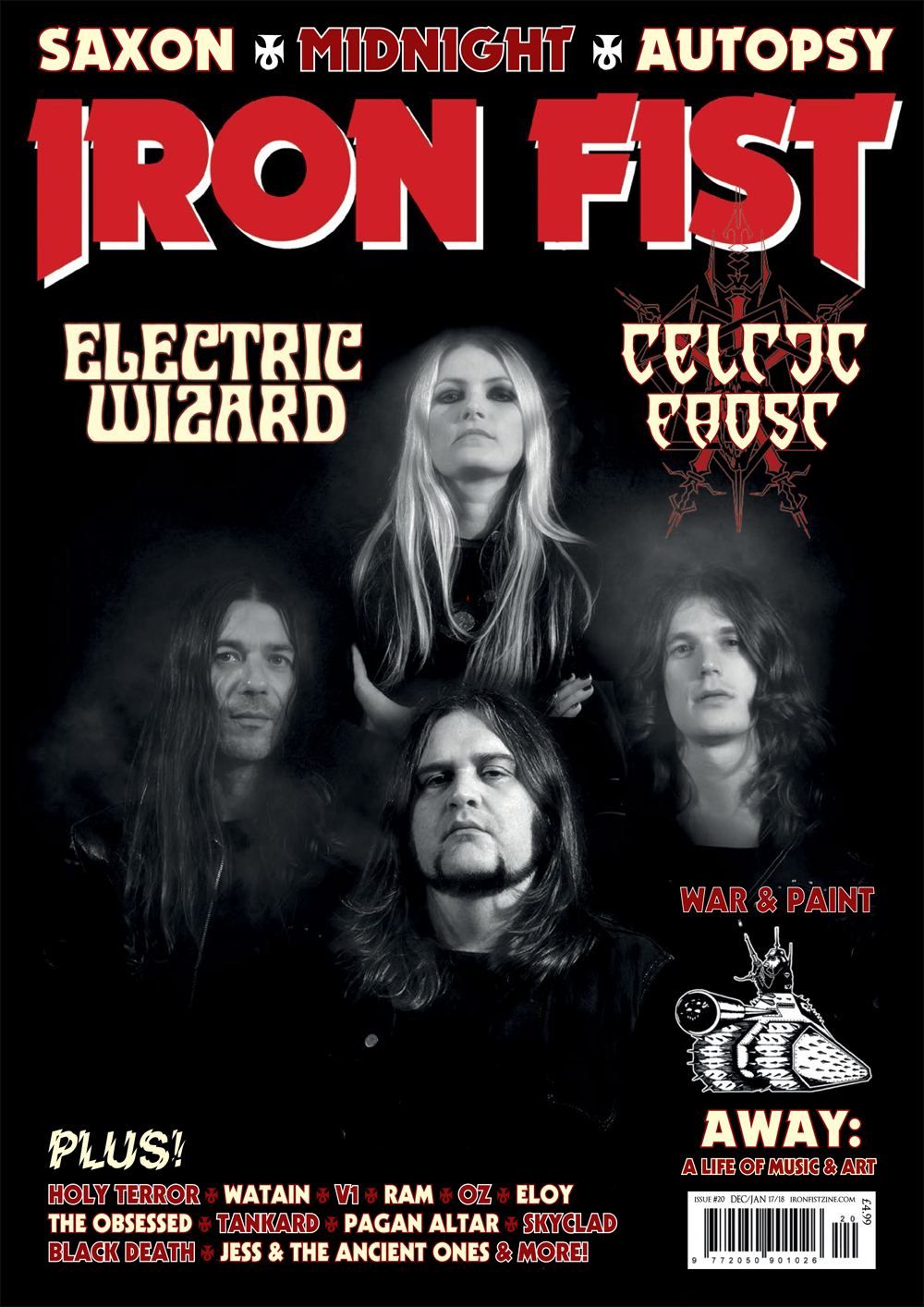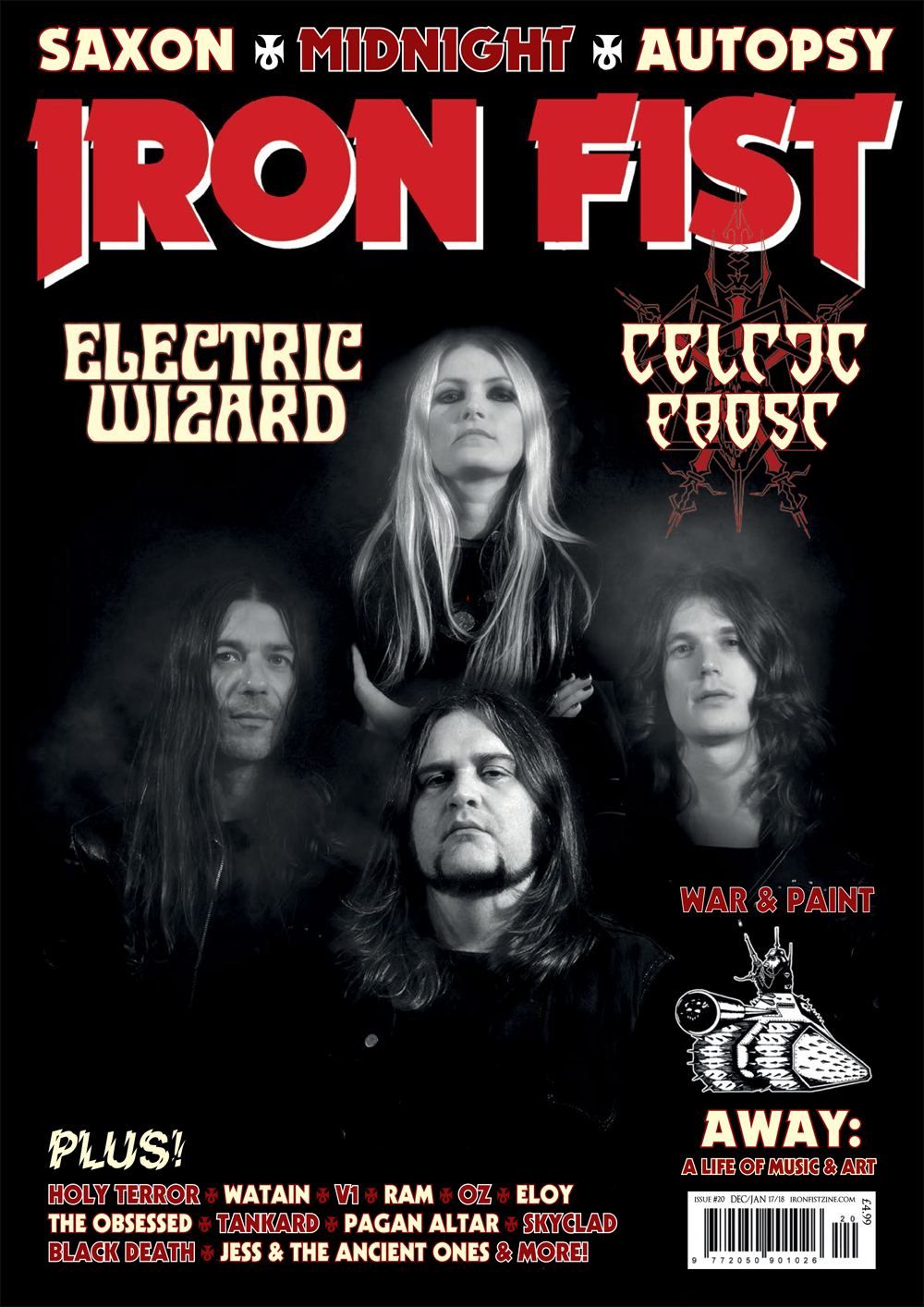 Issue 20
£6.50 - £8.50 / Sold Out / On Sale
Heavy Metal is our religion and as the season of goodwill is truly upon us, we bring you Iron Fist Issue 20 in its full glory!

"I don't want people to chin stroke, I want people to lose it!"
Doom veterans Electric Wizard grace our cover and their leader Jus Oborn talks to Jim Martin about the creation of their epic opus 'Wizard Bloody Wizard' and what it means to play doom in 2017.

To commemorate it's 30th anniversary, Tom G. Warrior looks back at the creation of 'Into The Pandemonium', still one of the most forward-thinking and adventurous albums to birth from the fertile spawning ground of 1980's heavy metal. More importantly though, Tom also talked to us in order to pay his respects in a tribute to the passing of Martin Ain.
Elsewhere Messrs Oliver & Dawson spread their wings again to talk about the early days of Saxon and the heavy metal crusades of yesteryear; we get the beers in with Tankard who simply cannot remember the old days, and talk to Steve Ramsey about the formative years of UK folk metal legends Skyclad.

"What was it like having Tony Iommi as your manager?" Frank Hall from riff-lords Necromandus reveals all, and discusses their premature demise, while sharing a tale or two about hanging out with some 70's rock royalty. And while we're in the 70s, Frank Bornemann, leader of German prog metallers Eloy talks to Andreas Andreou about his 40 plus year career; we look back at life with early Iron Maiden through to V1 with vocalist Dennis Wilcock, and Pagan Altar's Alan Jones relives times of witchcult in 70s and 80s London. On top of all this, the founders of black metal Black Death are back and esteemed scribe Kevin Stewart-Panko talks to Siki Spacek from the Cleveland crew about their legacy.

Autopsy's Chis Reifert talks about new album 'Puncturing The Grotesque', Hammy from the legendary Peaceville label, which celebrates its 30th anniversary, talks about losing Opeth to a bigger label, writing a book and a heap more; Scandinavian metallers OZ are back with a new album, their first in aeons, and founding member Mark Ruffneck talks about its creation as well as what it was like hanging out with Quorthon; and Swedish thrashers Ice Age finally released their debut album this year, so Iron Fist skated out onto the cold lakes to find out more.

Wino recalls the making of The Obsessed's debut album, how he started to become angry and hate society, and how Dave Chandler didn't like his haircut; and we look back at Holy Terror's short but remarkable career with guitarist Mike Alvord – the highs, the lows and everything in between.

VoiVod drummer Away discusses his artistic influences in a five-page special looking at his career as an illustrator and artist and Repulsion's Scott Carlson gives us an insight into his record collection in our Heavy Metal Hunter series.

As always Iron Fist dedicates a heap of pages of fresh blood too - so you can find features on Midnight, Monolith Cult, Maggot Heart, Amulet, Ram and a whole lot more!

Nothing is more packed with more denim and leather than Iron Fist Issue 20 – on sale now!