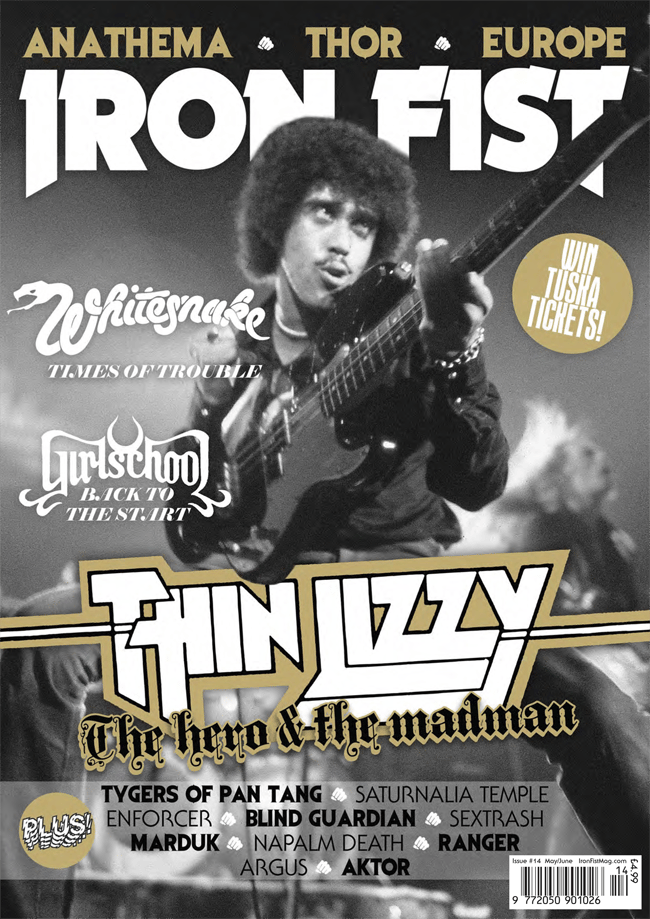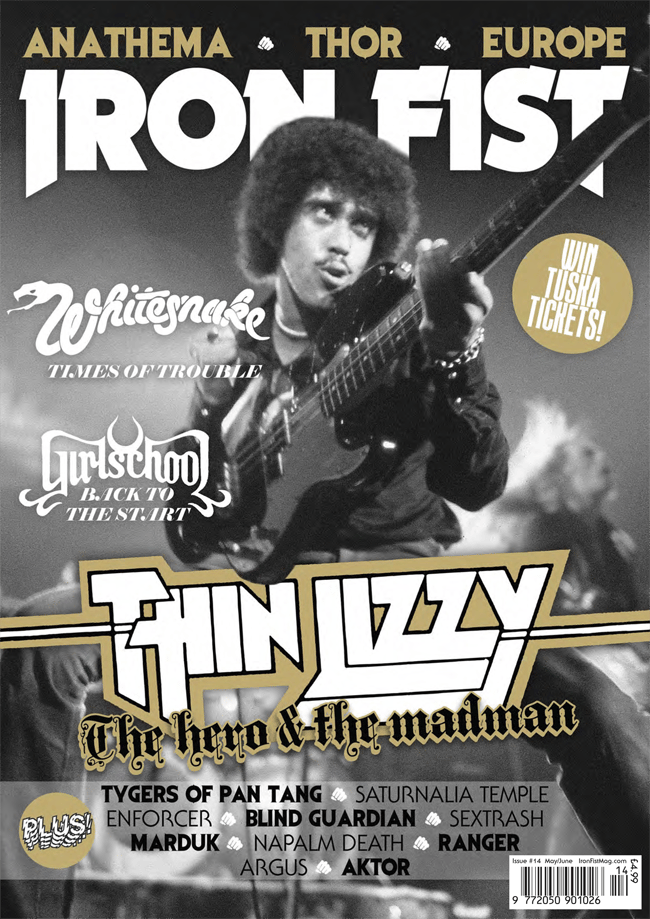 Issue 14
£5.50 / On Sale
We can hear the hound dogs on our trail. All hell breaks loose, alarms and sirens wail, and it gives Iron Fist the utmost pleasure to have THIN LIZZY gracing its cover for issue number 14. Within its pages, we chat to SCOTT GORHAM, the man who helped birth the style of glorious twin-guitar harmony that would resonate throughout so many of our cherished slabs of wax, and resided in the eye of this life-affirming band's particular hurricane for its glory years and beyond.
For all that band's turbulent and tragic history, THIN LIZZY's grit, balls and outlaw chutzpah remain central to Heavy Metal, and there are plenty of other tales of trials and tribulations tackled and often overcome in this issue, and of artists elevated by the all-consuming power of their music to levels bordering on the realm of mythical superheroes. Jon-Mikl THOR's is one of these, and the legendary thundergod's story in this issue is proof positive that the love for his chosen steel-bending metier could triumph against all adversity. Similarly stirring is the tale of GIRLSCHOOL's KIM MCAULIFFE and ENID WILLIAMS, who spill the beans on four full decades of tireless and inspirational hard rocking in often somewhat inhospitable surroundings.
It's always a pleasure to come across boundary-breakers whose passion and spirit are undimmed by the passing of aeons, and this is the case with both WHITESNAKEs BERNIE MARSDEN - who turned down a slot in Paul McCartney's band for a spot in Coverdale's entourage and a chance to parlay the blues into metal – and JOEY TEMPEST of EUROPE, a band whose titanic early material is held dear by any true discerning metalhead, and whose post-millenial rejuvenation is proof positive that there's more to 'em than 'that' song.
Elsewhere in cult corner, we travel to Tyneside for a retrospective showdown with NWOBHM glory boys TYGERS OF PAN TANG, get the lowdown on a suitably emotional reunion from the polymorphic Merseyside colossus that is ANATHEMA, plot the evolution of Teutonic pomp 'n' power overlords BLIND GUARDIAN, commune with US cult heroes ASHBURY prior to their appearance at Muskelrock, and get gnarly with the legendary and carnally-obsessed Brazilian nutjobs SEXTRASH.
Paying homage as ever to legends of extremity who've pursued their dangerously turbocharged aesthetic since they were barely out of short trousers, we chat to MARDUK and NAPALM DEATH, two seasoned and essential amp-abusers whose creative fire only burns brighter as the 21st Century wears on, not to mention the returning and crucial avant-gardeners DODHEIMSGARD.
Yet new blood is as crucial as ever to the Iron Fist world, and with the likes of RANGER, ARGUS, LUCIFER, WINDS OF GENOCIDE, IRON LAMB and AKTOR to contend with, there are contenders we cover who're sure to be snapping at the heels of all or any scene legends before long.
Friday night they'll be dressed to kill, down at Dino's bar and grill. Drink will flow and blood will spill...and these boys ain't reading Iron Fist, we should have a word with 'em.
Iron fist 14 is out now and is will also be available digitally for all you victims of the future.







OR PURCHASE PRINT VERSION FROM DROP DOWN BELOW